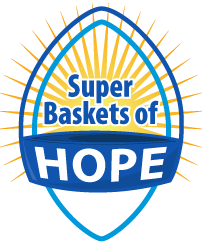 You know that anything that has to do with helping kids is among my most favorite things in the world. And Riley Hospital for Children in Indianapolis is so near and dear to my heart because of the hard work and miracles they perform on a daily basis for children of the nation and world (I still remember Kudrat, the little Afghan boy). And, unless you have been living under a rock for the past few months, you know that Super Bowl XLVI will be taking place in Indianapolis this coming Sunday.
Well, the perfect storm has happened! And just in time for the holiday on which we celebrate the heart and all its giving and loving glory. Super Baskets of Hope is an organization that has put together and just delivered 7,000 gift baskets for ailing children in hospitals in the 32 NFL cities as well as hospitals in Indiana. According to their website, this is a first year intiative between the Riley Children's Foundation, the Baskets of Hope program, and former Colts head coach Tony Dungy.
The list of sponsors is so impressive--everyone from Vera Bradley to the Tony Stewart Foundation to UPS to the University of Notre Dame. There are some fabulous items going into those gift baskets! Not only do the children receive baskets, but the parents can opt to receive Hope baskets for themselves. What a kind, generous way to embrace these people who are in need of our love and support. I've got to put this organization on my "must volunteer" list for the coming years.
Once again--I'm proud to be from Indiana, a state that rushes in to help and doesn't run away from the trouble.