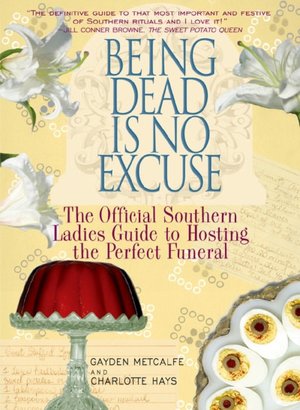 Posting the New Orleans born-and-bred recipe for Coconut Pound Cake (the post below this one) reminded me of this book so much.
"Being Dead Is No Excuse: The Official Southern Ladies' Guide to Hosting the Perfect Funeral" by Gayden Metcalfe, a Southern socialite, and Charlotte Hays, a "recovering gossip columnist", is a very, very tongue-in-cheek look at Southern life and culture, especially as it relates to religions and the funeral process and the way food is interwoven into every aspect of the Southern existence.
Episcopals and Methodists are the main "combatants" in every funeral--and funeral food--battle, and neither side is spared much love in this discussion of the proceedings. Every chapter in the book, too, has recipes for the tried and true funeral food standards of the South--cheese straws, tomato aspic, pecan tassies, pimento and cheese sandwiches, "liketa died" potatoes, and many more.
I found myself smiling and LOLing while reading this book. It truly is a light look at a dark subject and the way it's done in the Deep South--and the food that goes along with all of it.