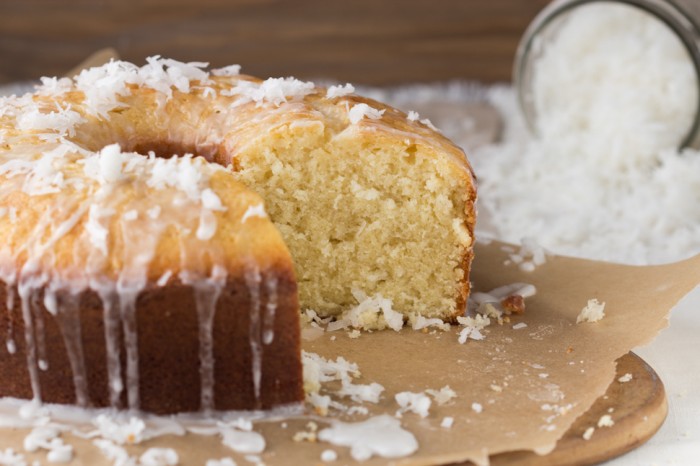 Coconut Pound Cake
Good Lord in Heaven above, I think I have just discovered my Achilles' heel. I found this recipe for Coconut Pound Cake and liketa died (one of my favorite Southern expressions).
I have this thing for pound cake lately. I don't know if it is the density of the finished product, or the strong flavor that a pound cake can deliver, but I find myself looking for pound cake recipes to add to my collection more and more often.
This one is just decadent-sounding. Full disclosure--I have not made it yet, but it is certainly on my list to try soon, and I am even considering it as a county fair open show exhibit. I will keep you all up-to-date on how this project goes.
INGREDIENTS for the Cake:
1 C butter at room temperature
5 eggs at room temperature
3.5 oz Angel Flake sweetened, shredded coconut
INGREDIENTS for the Glaze:
2 T unsweetened coconut milk (or regular milk)
1/2 to 1 C confectioner's sugar
INSTRUCTIONS:
Preheat over to 325 degrees F.

Grease and lightly flour a 9" or 10" tube pan.

In large bowl, whisk together flour, baking powder and salt.

In separate bowl, use electric mixer on medium speed to cream butter and sugar till fluffy (about 3 minutes

).

Add in eggs, one at a time, and mix well.

Stir in milk, coconut extract, and shredded coconut.

Finally, add flour, baking powder and salt mixture, and stir to combine.

Pour batter into prepared pan and bake till golden brown, about 1 hour.

Prepare glaze: whisk together coconut milk, coconut extract, and confectioner's sugar will smooth, adding more sugar as needed to thicken glaze or more milk to thin it out.

Cool cake in pan for 5-10 minutes before removing.

Drizzle with glaze while cake is still warm.